Probably like many academic authors, we were initially concerned that open access might be viewed by others as meaning low quality – after all, if it was really good, why would it be "free"?
However, we were reassured otherwise by, first, our own standards of rigor but also by the reviews from which this manuscript benefited and the exacting process that UC Press and Luminos have put in place to insure a high quality series. Once we were past that, we realized that we have long valued our role as public intellectuals who are willing and indeed, eager, to bring ideas into the messy real world and participate in the debates that change lives – and this model is perfectly suited to that sort of effort.
Moreover, the central messages of our book – that equity and opportunity are key for sustainable growth, that cross-sector conversations can bring new common ground, and that data deliberations in knowledge communities can forge productive solutions – are all really reflected in the open-access model UC Press and Luminos are helping to pioneer.  It's a perfect fit for us and we're proud to be part of this effort to democratize access to scholarship of consequence.
— Chris Benner and Manuel Pastor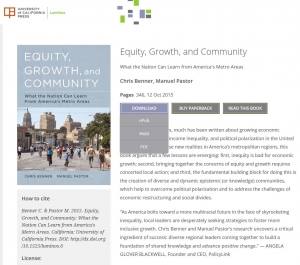 Get the free ebook (available for download in ePub, Mobi, and PDF formats).
Let us know what you think in the comments or on Twitter with the Twitter ‪#GrowingTogetherMetro.
About Luminos University of California Press' new Open Access publishing program for monographs. With the same high standards for selection, peer review, production and marketing as our traditional program, Luminos is a transformative model, built as a partnership where costs and benefits are shared. Learn more at www.luminosoa.org.